Reliable access to critical aircraft parts from the US' largest OEM just got faster. Keep your aircraft in the sky with our brand-new shuttle service.

At Sterling, we understand that the aviation industry operates at an intense pace, and having reliable and fast access to aircraft parts is critical to keeping your fleet flying.

As a trusted logistics partner for delivering time-sensitive aerospace solutions, we are excited to introduce our game-changing solution—our Seattle-Tacoma International Airport (SEA) shuttle service gets you rapid access to components from Seattle's largest OEM.

From there, we can take your parts anywhere around the globe, ensuring that your operations remain seamless no matter the destination.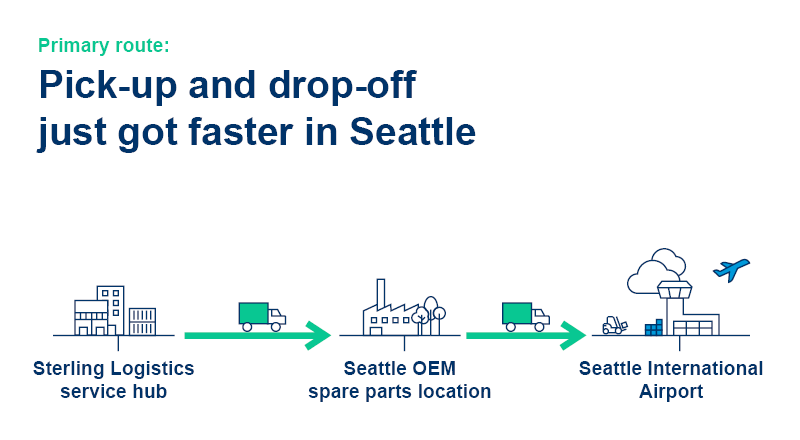 Our commitment to efficiency and your business's success has led us to create this dedicated shuttle service for commercial operating clients. With Sterling, you now have unparalleled access to essential aircraft parts, allowing you to keep operating to peak performance. Here's what our shuttle service brings to the table:
Lightning-fast
access
Every second counts in aviation. That's why our dedicated team of drivers guarantees both pick-up and drop-off in no time. When it comes to urgent parts from Seattle's major OEM, you can trust Sterling to be your fastest route.
Global
reach
Our solution isn't just about speed—it's about expanding your reach. With the capacity to move up to a pallet of cargo at a time, you can have the essential components you need moving quickly to SEA and shipped around the world.
Minimized
downtime
When time is critical, choosing our shuttle service significantly reduces maintenance downtime. We understand that downtime delays can have a significant impact on your bottom line, which is why we're dedicated to getting you the parts you require on time and intact.
Ready to elevate your aviation business to new heights?
Our dedicated team is here and ready to help you explore the endless benefits of our brand new SEA shuttle.
Whether you have questions, need a quote, or want to get started right away, we're ready to talk.